Craft Guild | 3410 Midcourt Rd, Suite 115, Carrollton, TX 75006. https://thecraftguild.org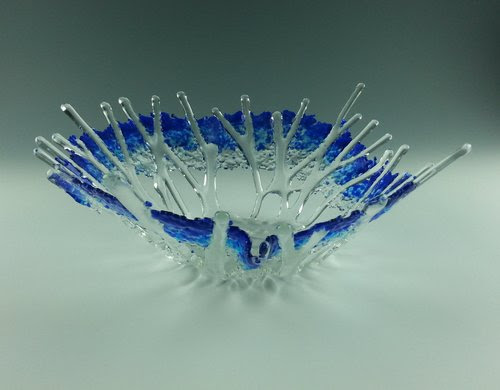 Fused Glass Twigs and Frit
Sat, Apr 2, 2022 10:30 AM – 1:00 PMSun, Apr 3, 2022 10:30 AM – 1:00 PM
In this two day workshop you will make 2 beautiful twig vases on the first day, and then on the second day you will alter one of them to create a totally uniquely different decorative vase. Sign up here!
Introduction to Lapidary
Learn the basics of cutting and polishing your own stones with Joe Jelks. In this 4-hour workshop you will learn the basics of how to shape and polish cabochons. Natural fossil palmwood and fossil coral will be available for your use. You will learn how to use a diamond trim saw, as well as diamond grinding, sanding and polishing equipment. There are three different dates to choose from. Friday, April 22, 2022, Saturday, April 23, 2022 or Sunday, April 24, 2022. Each workshop is 11:00 am – 3:00 pm.Sign Up Here!
Fused Glass Stringer Vase
Saturday, April 23, 20221:00 PM – 4:00 PM
The beauty of cloth, but it really is glass! This elegant stringer vase makes a great gift for Mom! Learn how to assemble these beauties during the stringer vase workshop. You will be the envy of all your friends and family. Sign up here!
Beginning Polymer Clay
Saturday, May 14, 20221:00 PM – 4:30 PM
In this fun beginner's workshop, learn to condition polymer clay using a pasta machine, the use of basic tools used with this medium and basic single layer surface design using stamps, pigments, fluid chalks, pastel chalks, acrylic paint and metal leaf. Sign up here!
Fused Glass Wave Sculpture
Saturday, May 21, 20221:00 PM – 4:00 PM
Do you love glass art? Now you can create your own wonderful piece of art in this fused glass sculpture workshop using strips of glass and a little bit of creativity. Sign up here!
Live Model Sessions are Back
April 22, 202210:00AM – 1:00PMThere is no better way to improve your drawing and painting skills than to work from a live nude model. Bring your preferred drawing supplies- drawing paper, newsprint, charcoal etc. We provide the easels and the model. There will be a monitor to pose and light the model but no instructor. Please sign up in advance to give us adequate time to hire a model. Click here for more information.
April's "Evening in the Studio" Workshops!
Build your own pottery treasure in the Clay Studio on the 1st or 15th, participate in the "Folding Frenzy" as used in bookbinding and origami on the 1st, create a beautiful glass piece in the Glass Studio on the 8th, bind our own journal on the 15th in the Bookbinding Studio or paint a sunflower in the style of O'Keeffe on the 22nd in The Painting Studio.Evening in the Studio Information
Craft Guild Spring Show & Sale
April 29 – May 1, 2022 Apply Now!
Like last Fall, our show will be held in tents in our own parking lot. A huge 'Circus' tent surrounded by individual 10' x 10' tents. This will be a great opportunity for all of our artists.
Young Artists Summer Camps
Summer camps start June 6, 2022. The Craft Guild offers weeklong art camps for children ages 5-17 in painting, drawing, glass arts, throwing on the wheel, hand building clay, fiber arts, bookbinding, printmaking, metalsmithing and mixed media. Camps are 9:30 AM to 12:30 PM, or 1:30 AM to 4:30 PM. Click here for more information. Sign up now!